Free Boiler Scheme & New Consumer Rights
Our team have the knowledge and experience (15+ years and counting) of the industry to allow you to access the free boiler grant scheme local to you. From the initial assessment of your home, installation and aftercare our team will provide an end-to-end service to keep things as simple as possible. We are UK based and support applicants through the process from all of the UK.
We have a wealth of experience in ensuring homeowners, just like you, are guided through the process of replacing their old inefficient boilers as per the government-backed boiler grant scheme. We make it easy to know exactly where you are up to with your application. Once your grant has been approved, we will keep you informed as we progress and book your boiler installation in for you at the earliest opportunity.
Get The Boiler YOUR Home Deserves for FREE
The scheme is open to a number of different qualifying resident types (including homeowners and some eligible pensioners). So it is important to us that our heating experts have the skills and experience to be able to fit your boiler to suit your home with the minimum of disruption. Through the scheme, the government are trying to help customers save hundreds of pounds on their annual heating bills by replacing your old boiler with a better performing one. This ensures more energy-efficient and cost-effective heating to every household that succeeds in getting funding from the free boiler scheme. The new boiler can affect your home insurance too as it is deemed much safer than an older unpredictable one.
Discover New Insurance Deals Thanks To Better Efficiency
After installation, you should consider contacting your home insurance company to update your premium, remember if you are planning to travel that new smart boilers can often be controlled via an app making for a much more convenient way to manage your bills.
New Rights To Free Home Energy
We also pride ourselves on being a certified one-stop Green Deal Installer. This assures you quality and sustainability at all times as you gain access to government free grants. One of the benefits of this scheme is that the new boilers are the most up-to-date options available, both in terms of energy efficiency and sustainability. All of our installation experts are trained to ensure each and every boiler is installed swiftly and reliably so that you can gain the benefits of your new boiler as soon as possible.
Boiler Grants & Installation For Your Home From A Single Source
By dealing directly with us, and not through 3rd parties, you can be assured that you will only deal with highly qualified staff at every point of the process. We assist many different individuals and families who could benefit from the grants in the UK, and oversee all the boiler replacements work to the highest quality.
As we provide the full service throughout your journey, you will get the benefit of a team who are fully trained, accredited and certified to ensure all the work we carry out is of the highest standard. This is why we have become a leading supplier as our clients know that they can trust us to ensure they get the best advice and receive a high-quality installation.
Enlisting our services for your new boiler installation ensures the highest levels of care when we work in your home. Our courteous engineers and installers will make sure they clean up thoroughly after completing your installation and will take away any rubbish, including your old boiler so that you would barely know they had been there. Our ongoing aftercare service will ensure that your new boiler is providing you with efficient heating and saving you money on energy bills. There are so many advantages to using us to access this initiative.
Why is the Scheme Free?
The UK government has an obligation to reduce the carbon footprint and aid the reduction of global warming. Old and inefficient boilers are contributing to the amount of energy being lost because they take longer to heat your home. This means your bills are higher than they would be if you had a "greener" boiler.
To remedy this situation the government have introduced a scheme which provides grants for new installations of more environmentally friendly boilers, regardless of your ability to get credit if you have applied for a boiler privately in the past..
Not only will this save you money but it will also help save the planet so it really is a good initiative.
The ECO Scheme Could Provide You With A New Energy Efficient Boiler
It has fallen to the main energy companies to provide the removal of the older boilers and replace them with more energy-efficient boilers because the work must be carried out by qualified heating engineers.
We are a part of the grant distribution process and can help you through the necessary steps to have your older boiler safely removed and replace (with minimum fuss due to our professional and experienced team) with a more up-to-date boiler.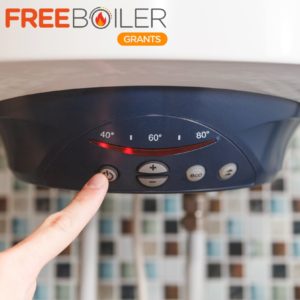 How do I qualify for a free boiler?
Qualifying homeowners, who claim one or more of the listed benefit types could be entitled to a free replacement boiler grant under the Government's ECO4 Scheme. If you qualify, then the process will be handled end-to-end by our team of professional energy advisors. Don't worry if you don't qualify; you may still be entitled to a subsidised boiler or a discount on a new boiler installation.
The grants are provided by the 'Big Six' energy suppliers – Scottish Power, British Gas, E.ON, EDF, SSE and nPower – through the Government ECO4 Scheme, delivering you a brand new boiler for free or at a fraction of the price that it would usually cost. The scheme is open to UK homeowners, and you could take advantage, just like many households already have. To find out if you qualify, simply enter your postcode; it won't take more than 60 seconds.
There are a few requirements that you'll need to meet in order to qualify for the government ECO4 scheme. First of all, you must be a homeowner. As well as this, it's vital that your boiler is at least seven years in age since it is deemed to be more worthwhile to repair newer boilers rather than completely replacing them. Lastly, you must be in receipt of one or more of the listed benefit types to qualify for the homeowner boiler scheme:
Child Tax Credit

Income related Employment Support Allowance

Pension Guaranteed Credit (excludes Savings Credit)

Disability Living Allowance

Personal Independence Payment

Industrial Injuries Disablement Benefits

War Pensions Mobility Supplement

Constant Attendance Allowance

Armed Forces Independence Payment

Child Benefit
If you or anyone within your household receives one or more of the above-listed benefit types provided by the UK government, then it's highly likely that you're in line to qualify through the government scheme. All you need to do is take a few moments to find out whether you're eligible today, and then we'll handle the rest.
Even if you aren't in receipt of any benefits, there are alternative options for example "Buy now, pay later" with discounted costs, please contact us for further information.
So Is My Boiler Costing Me More Money To Run Than It Should?
The homeowner boiler scheme was initiated in order to provide eligible occupants across the UK with efficient and affordable heating. Our research has shown that boiler models that are over seven years in age only operate at around 65% of their full efficiency. This means that as much as 35p of every pound spent on heating costs is being wasted due to an inefficient boiler. As a comparison, your new A-rated boiler would be expected to run at no less than 90% efficiency, meaning a loss of 10p per pound or less.
Aside from the financial benefits, having a new boiler installed can also be extremely beneficial to the environment. Using a new energy efficient boiler means that less energy is required to heat a home and therefore fewer carbon emissions are produced. This has the impact of reducing an individual household's carbon footprint, in the process aiding the government's overall aim of drastically reducing carbon emissions across the UK as a whole.
There are clearly a range of benefits to this scheme in the UK, so if you qualify through having a boiler older than seven years, by being a homeowner, and by currently receiving one or more of the government benefits listed on our site, then it is well worth beginning the application process. Even if you do not qualify for a boiler grant, there may still be helpful access to a discount on your next boiler, which could still be of great financial benefit in terms of having a brand new energy-efficient boiler installed, as well as the major energy cost and environmental savings that would follow.